The Department of Urban and Regional Planning at the University of Nairobi recently organized a short course certificate training program, aimed at equipping second-year BA in Planning students with essential skills in cutting-edge technologies. The training, which took place from June 10th to July 7, 2023, covered a range of tools including ArcGIS, AutoCAD, Remote Sensing, Google Earth Engine, Google Earth, and Kobo Collect. Led by Dr. Silas Muketha, a highly experienced GIS expert and Associate Dean of the Faculty of Built Environment and Design, the training provided students with valuable knowledge and expertise.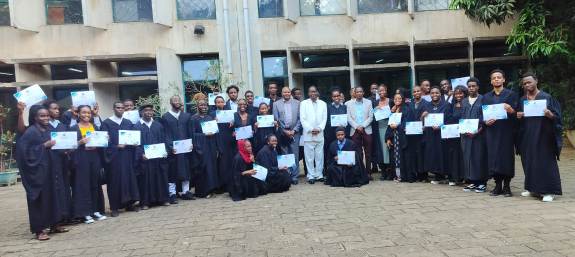 During the training, students had the opportunity to acquire a diverse set of skills that would greatly benefit their future careers in urban planning. The following skills were covered:
ArcGIS: Participants learned how to utilize ArcGIS to create maps and analyze spatial data effectively.
AutoCAD: The training provided insights into using AutoCAD to generate both 2D and 3D drawings, aiding in the visualization of planning projects.
Remote Sensing: Students gained knowledge on utilizing remote sensing techniques to gather and analyze data pertaining to the Earth's surface.
Google Earth Engine: The training encompassed the use of Google Earth Engine to process and analyze satellite imagery, enabling students to extract valuable information.
Google Earth: Participants discovered how to leverage Google Earth as a tool to view and interact with geographic data, enhancing their understanding of spatial relationships.
Kobo Collect: The training familiarized students with Kobo Collect, enabling them to efficiently gather data in the field, streamlining data collection processes.

The training served as a significant opportunity for students to acquaint themselves with the latest technological advancements in urban planning. The newly acquired skills will not only enhance their competitiveness in the job market but also enable them to make positive contributions to their respective communities.
The event garnered substantial attendance, with over 30 students enrolling in the training program. Feedback from the participants was overwhelmingly positive, with students expressing gratitude for the expertise shared by Dr. Muketha and acknowledging the training's profound impact on their career prospects.

The success of the training would not have been possible without the generous support of the Dean's Office of the Faculty of Built Environment and Design. The closing ceremony of the training was graced by the presence of Dr. Samuel Maina, the Acting Dean, and Dr. Arthur Munyua Mwaura, Chairman of the Department of Urban and Regional Planning. Both expressed their appreciation for the students' active participation and commitment.
Conclusion:
The training program conducted by the Department of Urban and Regional Planning at the University of Nairobi proved to be a resounding success. Equipped with advanced technologies, the students are now better prepared to tackle the challenges in urban planning and contribute meaningfully to the development of their communities. The training's positive impact is set to shape the future of urban planning in Kenya, ushering in an era of innovative and informed decision-making in the field.